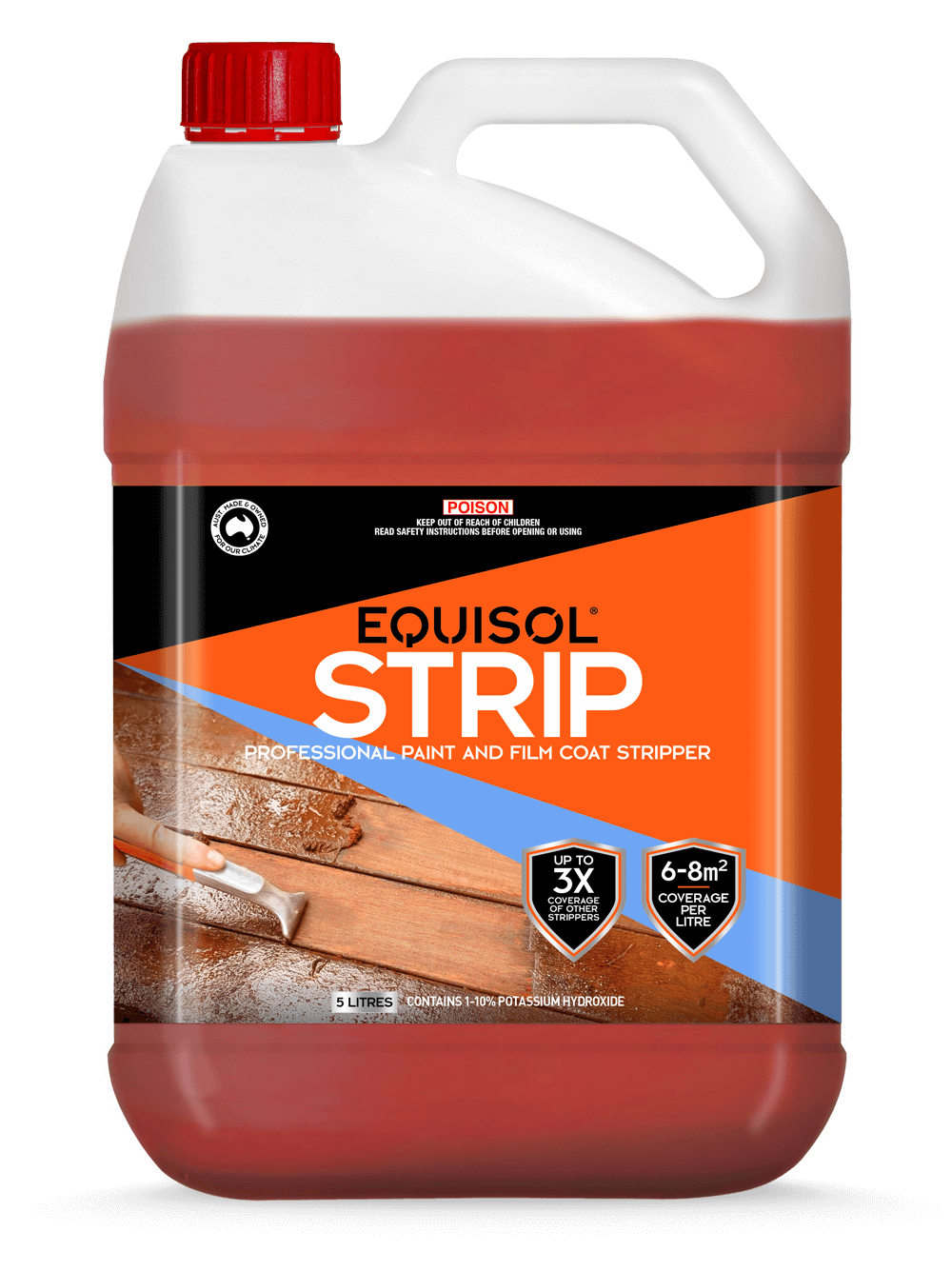 Removes multiple layers!
Bring your timber back to life by stripping stubborn old coatings. Suitable for removing film coatings including paint, poly-urethane timber finishes and most solvent based finishes. Also removes old built-up oil coatings. Not suitable for 2Pac or epoxy finishes. Brush on, leave on and then hose off without harsh scraping that can mark your timber. Environmentally friendly and DIY safe with no methylene chloride or NMP solvents.
Where to use:
Exterior timber, metal, masonry and brick.
Clean up:
Clean water and soap
Coverage:
6-8m2 per litre
Where to use:
Exterior timber, metal, masonry and brick.
Clean up:
Clean water and soap
Coverage:
6-8m2 per litre
Timber Prep
System
New
timber
Mould
present
Paint or
old film
coating
Grey &
weathered
with no
coating
Old oil
coating
in poor
condition
Re-coating
Equisol
Regular
Cleaning
Equisol Strip/Xcoat
Step 1
Equisol Null
Step 1
Equisol Prime
Step 1
Step 2
Step 2
Step 1
Step 1
Step 1
Equisol Vitalise
Step 2
Step 3
Step 3
Step 2
Step 2
Step 2
Equisol Retaine
Step 1
Timber is ready to coat with Equisol Pro E365
Protect areas not to be stripped, as Equisol Strip will damage paint and other surfaces.
Wear protective gloves and goggles. Shake bottle well.
Apply to dry surface with brush, soft broom or spray in direction of the grain. Apply and strip in areas 12m2 or smaller for maximum effectiveness. Ensure Equisol Strip is pushed into the grain by scrubbing. Leave for 30 mins, keeping timber wet with light water mist to keep Strip moist. Be careful not to use too much water, which will wash Strip off the timber. After 30 mins, reapply Equisol Strip over the first coat and scrub in to reactivate the stripping formula. Leave on for another 30 mins, keeping moist with water mist.
REMOVAL: Test if finish is loose and lifts off surface with scraper. Timber will turn black where stripper is ready to be removed. Apply more stripper where timber is still light. The type and thickness of finish will affect the time until layers are loose.
Use a high pressure washer set to 50 bar (without turbo mode), working in the direction of the grain. A garden hose is not enough. Heavy finishes with multiple layers may require a repeat application of Equisol Strip. Soft timbers will feel furry due to the high pressure cleaning. Once Equisol Strip and finish has been removed, use a garden hose to rinse off any left over chemicals on the surface. Your timber should look bare but darker. Use Equisol Prime and Equisol Vitalise to brighten timber before oiling. Sand any rough or furry patches with 80 grit sandpaper to restore smooth finish.
Harmful if swallowed and in contact with skin.
Causes allergic skin reaction. Causes serious eye irritation. Toxic to aquatic life.
Avoid breathing mist, vapours or spray. Wear protective clothing, gloves, eye/face protection and suitable respirator as required. Wash hands, face and all exposed skin thoroughly after handling. Do not eat, drink or smoke when using this product. Contaminated clothing should not be allowed out of the workplace, and should be washed before re-use. Store in a closed container, in a well ventilated place and away from oxidising agents and foodstuffs. Do not empty into drains.
FIRST AID: If poisoning occurs, contact a doctor or Poisons Information Centre (Phone Australia 13 11 26; New Zealand 0800 764 766). If medical advice is needed, have product container or label at hand.
SWALLOWED: If swallowed, rinse mouth. Do NOT induce vomiting. Give a glass of water. Immediately call a POISON CENTRE or doctor.
EYE: Hold eyes open, flush with running water for at least 15 minutes and see a doctor.
SKIN: If skin or hair contact occurs, immediately remove any contaminated clothing and wash skin and hair thoroughly with running water. If swelling, redness, blistering or irritation occurs seek medical assistance.
INHALED: Remove from contaminated area – avoid becoming a casualty. Allow patient most comfortable position and keep warm. Apply artificial respiration if not breathing. Seek medical advice.
FOR FIRE: If involved in fire use water fog, foam or dry agents. Avoid breathing product of combustion.
FOR SPILLS: Clear area of all unprotected personnel. Slippery when spilt. Wear protective equipment. Absorb with sand or soil. Collect and seal in properly labeled drums. Dispose of contents/containers in accordance with local regulations.
DISPOSAL: Do NOT pour leftover product down the drain. Keep unwanted product in sealed containers for disposal via chemical waste collections.